Amazing Facts About the 5 senses of Babies: When Do Your Babies Show Their First Toothless Smile?
Is your camera ready? Parents are always excited to see the very first smile of their babies if, in the beginning, they used to cry a lot. You'll be able to see their toothless smile, which can be overly cute to see the least. We know that you're curious to know when it is going to happen. So, in this informative article. We're going to give you the growth of your babies starting from 2 months old to 4 months old. Wonder in which pace they're going to have the ability to smile? Feel free to read it.
Your Baby at two-months-old
The Baby continues to grow and develop reflexes, such as being able to lift his or her head for a longer period with the support of the mother. At this pace, babies are expected to show their first toothless smiles relatively. Babies tend to smile when they see someone/something that pleases them like seeing their mother. Babies are prone to lift their heads longer and use their arms for support.
Sight
Babies in their two months have improved their vision span to 18 inches. They could see the face of their mothers when she breastfeeds them and your actions you take nearby your Baby.
Hearing
Babies hearing also have improved at this pace. They like listening to their parents' voices and react to them by showing relaxed expressions like smiling.
Touch
At this pace, the sense of touch of your baby continues to develop. He/she will enjoy playing any material or stuffed toys placed at his or her hand. Your Baby's sensitive skin may respond to your gentle touch through giggling and through showing expressions that show approval. Babies may now differentiate the different texture of toys put in his or her hands and may distinguish hard things from soft things.
Taste
Babies' taste bud for sour, sweet, bitter, and salty develops as he/she grows. At this particular pace, the sense of taste is still sensitive. He/she likes your sweet liquid coming from your breast and may show distaste and dislike foods that taste sour and bitter.
Smell
Babies at two months old have still raw smell. A strong aroma he/she may smell will affect his or her taste, and if you wear or use the strong scent of perfumes, the Baby may breastfeed differently compared to your natural smell. Babies like their mother's sensual, ordinary, simple, and natural scent.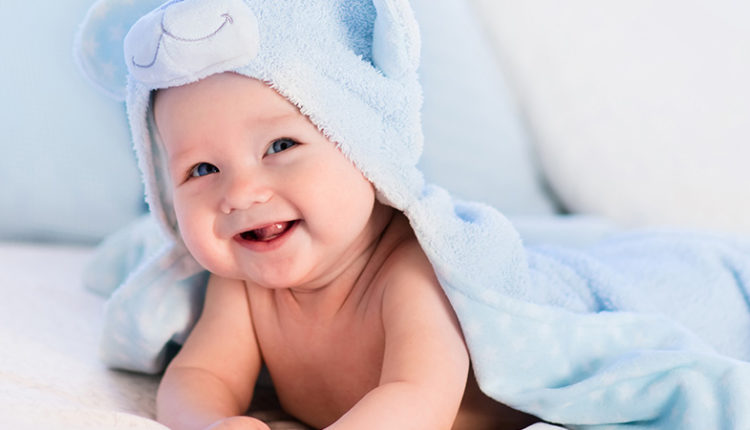 Your Baby at three-months-old
Three-month-old Baby's muscles in the head and neck are getting stronger. He/she may lift it for several minutes now. Babies are leading trough learning the ability to roll over. Babies like to surprise their parents with the new skills they acquire. Joints found in hip, knee, and elbow increases its ability to able the Baby to roll over soon.
The hand-eye coordination of the babies at this pace also practiced. Babies would like to contact toys dangling above his or her head when he/she placed in a crib. Babies are expected to babble this month, have time to chat with your Baby. He/she will be likely to listen to high-pitch voices and will get started to unexpected noises.
Sight
Babies would like to play objects with different colors since he/she can already see the colors vividly. He/she has an acquaintance with the toy's color, shade, dimension, and texture. Babies starting from this month start to improve their object tracking skills.
They start looking for something/someone and recognize them. Parents should help and facilitate their babies to look at material such as photos, toys, and books; this will lead to improving their sense of sight.
Hearing
By three months, babies' temporal lobe is rapidly progressing; this is the part of the brain responsible for the development of the acquisition of language, hearing, and smelling skills. Parents who usually talk with their babies will recognize that their babies look at them and will attempt to communicate with them through gurgling.
Touch
Babies touching abilities widen at this pace; they will attempt to reach out to things that attract them. Babies are fond of being touched, massaged, caressed, hugged, cuddled, and any endearment their parents could express to them. Babies would like to practice a sense of touch by reaching out to touch a variety of materials.
Taste
Babies at this pace will find it fondly to sense or perceived different tastes. It is noticeable that babies will start biting their blanket and their toys. Babies' tongues are developing and continue to develop the four taste buds. Babies will enjoy and attempt putting different materials at hand then place them in their mouths.
Smell
Babies' sense of smell at this point is gradually developing. He/she may differentiate the scent of her mother and contrast it with the scent of strangers. Babies will show unlikeness of smell by crying, extending of his or her hands, and by kicking his or her legs.
Your Baby at four-months-old
Babies will continue to progress their skills and senses. They might make successful rollovers if he/she did not perform it at his or her three months pace. The Baby will become more active, playful, operating, and mobile who will try to reach toys using both of their hands, he may not be successful in his or her first attempt of touching or acquiring the toy but he will when continues to make attempts.
The Baby becomes more active. Parents could play with their Baby. Children may try to copy their mothers' expressions and will exert effort to talk back to their parents. He/she may utter syllables such as ma, da, pa, and boo. He/she at this pace has no idea what the syllables mean, but their communication skills continue to develop. Babies may support some weight with legs.
Sight
By four months, babies' vision promotes greater span and perception. The Baby will recognize if the person/object is near or far from him/her. Babies' hand-eye coordination progresses and may use his or her hands to accurately and specifically grabs something such as hair, earrings, and toys. As their perception continues to become clearer, they may become distracted by their surroundings and may affect their breastfeeding session since babies' eyes may lock into other things.
Hearing
Babies will fondly pay attention to your voice at this pace. He/she may imitate the words coming out from your mouth and end up uttering consonant sounds first, such as sounds of m, b, z, and v. Babies as early as four months may utter whole syllables. They found it attractive when you speak and will look mostly at how your lips work.
Touch
By babies' fourth month, their gripping reflexes continue to develop, and their muscles strong as well. They will tend to reach out and touch objects placed in their surroundings.
 Taste
Taste
Babies' sense of taste continues to develop. Signs such as putting the material in his or her mouth indicates his or her improving sense of taste.
Smell
The sense of smell continues to progress. The smell of the food may affect the taste of babies. They will be able to compare the natural scent of their mother from their mother, who uses perfume.