9 Parenting-Saving Tips to Make Your Baby Laugh
Who wouldn't want to see their babies smiling? As a parent bringing your baby to his/her most positive character can be a bit tricky, especially if you're new in parenting. There are lots of stuff that you can do to make him laugh, and we're here to teach you how to do that. Babies love to sing, play games, and moving their body. Having the best portable playard for babies would help, so your baby will be 24/7 secured, while you are playing with him/her.
The first and foremost tip that we're going to give is to be a bit of a clown-like parent. They like grimaces and other facial expressions- for sure, it'll entertain them. Dealing with a fussy child can be a bit challenging for parents to handle, but playing mini-games with them will be a big help. Just enjoy the ride while you're trying to make your baby laugh and oh! You'll have to prepare your camera to- capture your baby's biggest smile of the day.
1. Make unusual sounds
Babies love to hear funny noises and songs- if you can make a lot of those funny cuckoo and animal sounds, your baby will suddenly become attentive and will laugh a lot. This can be an effective trick; you can try copying the sound of a cat or dog. Just don't overdo it for the baby might find it too scary and creepy. You can also copy farting sounds and see if your baby like it. Just try sounds that are odd and silly, your baby will recognize that you want him/her to laugh and so they will. There's nothing more saddening than seeing your baby crying- he/she might just feeling bored, you can give him/her a good giggle by making unusual sounds.
2. Do the Peekaboo
When we're younger, our parents used to do this a lot to us; now it's your turn to do the Peekaboo. Some infants will smile at a simple game and Peekaboo is one of the funny games that never ran out of style when it comes to making babies smile. This game also helps babies to exercise their cognitive development, so it's worth the play. This can also do with younger siblings and relatives.
3. Show the baby any object
Just do note that in this method, don't give your baby a tiny object that he/she might swallow. The ball can do the trick; babies love to see something new- it will surely give him/her a great giggle. It will also be better if they can manipulate it like Rubik's cube or something that they could squeeze. You can also make the toy disappear and re-appear that would make your baby's lips go smiling.
4. Be patient
When the baby is crying, and you had a long day at work or something, take a break. You can handle it later, just take a breath for a few minutes and then go back- try to hush your baby and make him/her smile. Especially if you're a single mom or dad- parenting could be more complicated than you have a partner. But, it will surely be worth it. You may need a lot of patience when trying to make your baby laugh, just don't expect it to happen in seconds. If you have to redo stuff- then, do it.
5. Play Where's (noun)?
When you approach your baby, try to uplift a healthy and active spirit. We understand that introverts will find this method a little bit challenging, but it's easy once you give it a go. You can cover your face with your hands and ask your baby, "Where mommy?" or "Where's teddy?" Pop back and see, "Peekaboo! I see you!"
This can be pretty fun and entertaining; we're quite sure that your babies will love this little trick. But don't overdo it, it may scare your baby. Just do it gently and with enthusiasm, and you'll be all set. Do keep your voice happy and do smile a lot. Babies would love to copy expressions, so if you're very joyful the very first place. Then, your baby will love you.
6. Dance like there's no tomorrow
Make funny dance movement and just hit the floor like there's no tomorrow. A costume would help, too but not necessary. You can jump, clap, and do other dancing moves that you might think your baby will love. It's also a great way for parents to exercise and stay active, just be careful though, you might hit your baby's crib so that a good distance would help.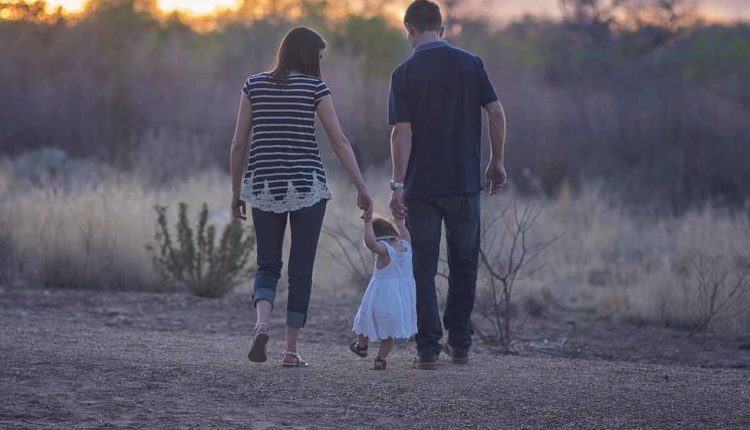 7. Little chasing games
If your baby is crawling already, you can play a chasing game and have an unforgettable laugh together. You can get down on the floor and try to follow your baby. Just pretend that you're trying to catch him. While chasing, say sweet words like, "Mom's going to catch a cutie, could that be you?" your baby will surely love to inspire laughter. It may sound like you're making a total fool of yourself, but it's going to be fun. And that only stays between you and your baby.
8. Pretend biting
This method can be fairly effective, you pretty much just have to pretend that you're going to eat your baby. But, totally ain't real. You're just going to bite him on his chest gently using your lips and no teeth your baby will surely give you a good show of laughter.
9. Play with your baby
Babies love to look at familiar faces. Seeing your face will surely make them fall in love, if he/she is the good mood, he will instantly laugh seeing your face. You can do a goofy grin and open your eyes wide, and that would entertain the baby for good.
Here you go, we hope you have a good read on the top 9 tips for making your baby laugh. We're quite sure that you have done one or two of these, do share your experience with us. We'd love to hear it from you. No matter what you're doing, we know that it's one more step to becoming a responsible parent keep going and happy parenting!